Gaming Equipment Solution
Spring-Fast ® BT Series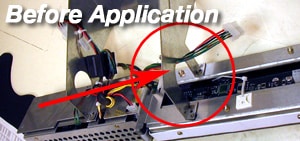 Gaming Equipment with circular and semi-circular panel cutouts within the top box electrical controls section had very sharp edges requiring consistent protection from wire chafing during the shipment process and operation. Casinos go to great lengths to avoid, let alone minimize, equipment downtime. A simple chafed wire can not only shut a machine down, but can also lead to a more catastrophic event such as a fire.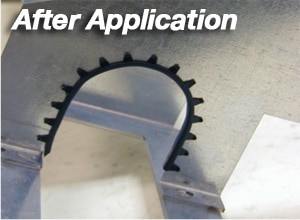 Solution:
Spring-Fast ® BT Series installed fast, clean and securely, providing a low profile precision fit. The self-gripping capabilities assure precise fit along the straight edges with advantages including safety and ease of installation without adhesives. Value engineered Spring-Fast relegates wire chafing to a non-issue. Straps on, Holds fast!
Fire is a deadly hazard in trains.  As the rail infrastructure is expanded and upgraded in Europe, the US, and around the world more and more attention is being placed on passenger safety and fire mitigation regarding materials. Wiring is critical.  Trains have miles...
read more
The long 19 month grounding of the 737MAX is over.  It's been a long haul but the FAA and EASA released Airworthiness Directive AD 2020-24-02 (AD) on Nov 18 that allows the return of the Boeing 737 MAX to service.  It applies to all Boeing 737-8 and 737-9 (737 MAX)...
read more