Problem: Protecting wiring in cloud-based Autonomous Mobile Robots (AMR) used in material handling and data collection for warehousing and intralogistics environments. Materials handling robots are dense with cameras, lasers, and sensors – in each robot the wiring had to be protected from at least 2 feet of sharp metal edging.  The two current methods in place had serious issues (see below).
Client: A leading OEM of Industrial Automation and Robotic solutions for Logistics and Material Handling Applications.
Solution: Spring-Fast ® BT Series Grommet Edging
What Had Been Happening?
Method One:    Fiberglass Tape and associated problems
Tape could not be applied consistently to the edge.
It was practically very difficult to apply to the robot with all the sensors in place.
Tape was inconsistently cut: the tape often had to be notch cut in short and intermediate lengths
Corners were difficult as cutting variability could lead to exposed edges.
The tape had a tendency to release due to temperature and vibration.
Frequent rework meant line workers often had to remove the glue with MEK- a powerful solvent.
Method Two:    Nylon grommet and associated problems
Thick edge nylon grommets were hard to apply.
Applying glue for security was a slow multi-step process.
They did not grip well across multiple panel thicknesses.
Small lengths were particularly unstable when applied even with glue.
PSA grommets, due to embrittlement, tended to fall off over time- leading to lower quality levels.
Created inconsistent and poor quality product which often had to be reworked.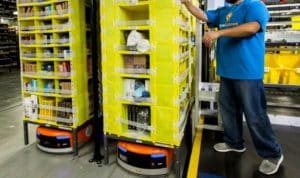 Solution:
Spring-Fast BT grommet edging was chosen to protect the wiring because it gave:
Consistent reliability for improved product quality
Conformance flexibility without compromising retention
Easy consistent and fast application despite the sensors being in place
Fitting to non-straight edges around corners for consistent protection
Even small pieces gripped consistently
Resistance to temperature changes, vibration, and shock
UL94-V0 for flammability
Significant Benefits
Solved the problems-abrasion protection, ease of application, and product quality
Saved ~49% of total installation costs vs. glued in nylon grommets
Increased the specific task productivity by 9.5x (far faster with fewer steps)
Best in class grommet edge performance.
Spring-Fast BT Series helped the customer reduce AMR costs, while also improving throughput, efficiency, and productivity.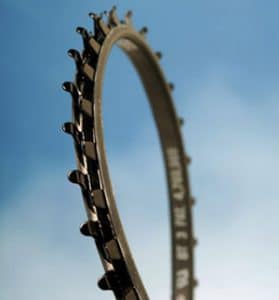 Product Detail
Steel substrate encapsulated with fusion bonded nylon for abrasion resistance
The steel core is designed with castles, or gripping teeth, that angle into the edge creating a gripping force and edge retention without adhesives.
Tested to aerospace standards for conformance and retention
No tapes, glues, or PSA that might require HazMat warnings, could degrade and or cause product quality problems.
Find out more about Spring-Fast BT series here
Request Free samples here